Marine Art Book
Sea Liverpool by Edward D. Walker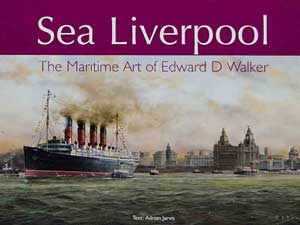 Ted's first book 'Sea Liverpool: The Maritime Art of Edward D Walker' showcases 38 of his paintings, nearly all of them with a Port of Liverpool connection.
The paintings range from Samuel Cunard's Britannia of 1840 to Cunard's Queen Mary 2 which Ted was commissioned to paint for a Royal Mail first class stamp a few years ago. Amongst other transatlantic liners pictured in the book are the much-loved Mauretania, Aquitania, Franconia, Caronia and Reina del Pacifico as well as the ill-fated Liverpool-registered Titanic and frequent visitor to the Mersey, QE2.
Included are vessels from the romantic sailing ship era along with the Mersey Ferries Woodchurch and Upton, the Isle of Man ferry Manxman, Planet lightship, Royal Navy vessels HMS Whimbrel and HMS Cornwall and the submarine HMS Unicorn. Of special interest are two paintings of the Birkenhead-built Confederate blockade runner CSS Alabama which wreaked havoc among Union shipping during the American Civil War. The last act of that war, the surrender in the River Mersey of another Confederate warship, the Shenandoah, is also pictured in the book.
Ted's magnificent paintings are enhanced by individual write-ups of each subject specially commissioned from Dr Adrian Jarvis, former Keeper of Port History with National Museums Liverpool. Readers will find them authoritive, and illuminating.
Priced at £14.99, this superb A4-size, 92-page full-colour hardback book is available from various outlets throughout Merseyside or direct from Ted as a signed copy.
For purchase enquiries email - Ed-walker@sumarpubl.fsnet.co.uk
For bulk purchases contact the publishers Ron Jones Associates (email: books@rja-mpl.com).
Titanic Books
Edward Walker recommends authors John P. Eaton and Charles A. Haas who are recognized as two of the world's foremost authoritieson the Titanic. Both authors have written and lectured extensively regarding the Titanic. Charles Haas has been featured on The Weather Channel's featured series which describes how weather has changed history. The 28 degree water temperature and occurance of iceburgson the night of April 14, 1912, directly relate to the Titanic's wreck and tragic loss of life. Charles Haas is serving as Presidentof The Titanic International Society, Inc. Eaton and Haas are the only historians who have dived to the wreck site of the Titanic.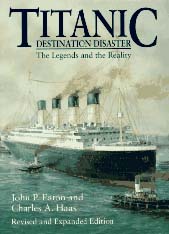 Titanic: Destination Disaster

The authors discuss the passengers, the sinking and misconceptions that have developed over the years regarding the Titanic. The bookdescribes the construction, maiden voyage, sinking and aftermath in this revised and expanded edition. This edition includes a descriptionof the authors' photographic visit to the wreck site.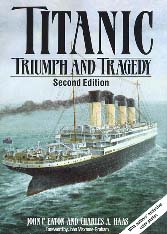 Titanic: Triumph and Tragedy

This book has been referred to as "the definitive history" of the Titanic. This updated edition includes the discovery of the wreck siteon September 1, 1985, and recovery of artifacts from the disaster site. The authors consider new speculation on the Californian's failure to rescue the Titanic.